I've gone through a lot of books in the last two (very busy) months! This review roundup will be briefer than usual; titles are linked to Goodreads if you want to read the descriptions of each book.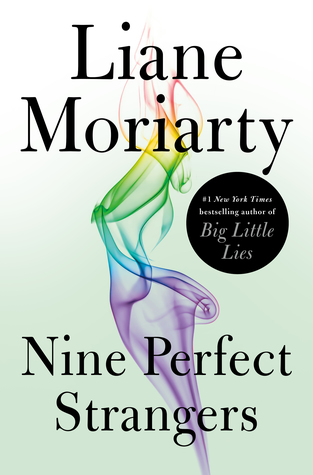 Nine Perfect Strangers by Liane Moriarty
This was possibly my favorite Moriarty ever (and y'all know that's saying a lot, because I love everything she's done). The main character was a writer, so the book was very meta, which was fun to read. The characters were distinct and easy to get to know. One very important subplot was tragic and emotional; Moriarty really made you feel it; and it was nice to see grief handled in different ways. The climax of the book could have have more oomph, but the characters were so good it didn't really matter that it lacked a bit of pizazz. This was equal parts funny and clever; I'd probably read this again sometime to get the rest of the details. If you're on the fence about Moriarty this might be a good one to try.
The Bunker Diary by Kevin Brooks
I gave this three stars on Goodreads because the writing was amazing and evocative, but I have never regretted reading something so much in my entire life. I read it in about two hours and it was a horrible, stressful, disgusting experience. I wish I had made myself stop. I commend the author for writing something so compelling but also what the fuck is wrong with his mind to be able to write something like this? I'm amazed and disgusted. Congrats, you evoked a visceral reaction. It was not pleasant. Read at your own risk. This Goodreads review more eloquently sums up my own feelings on this.
13 Ways of Looking at a Fat Girl by Mona Awad
Eh…this was not my fave. I didn't really connect with the character, and part of that could be because I'm thin so I couldn't relate, but I've read characters whose weight was a fairly large part of the story and still identified with them somewhat. This characters was incredibly insecure and focused on one thing to the detriment of her relationships, and it was just slow and annoying to read. Nothing really changed about her over the course of the book. The author tried to show some sort of change or awakening at the end, but it was too subtle for me and didn't feel permanent. The only okay thing about this book was the format; it was written in essays from mostly the MC's point of view but also from the POV of a few people in her life. That was where my interest began and ended.
This was an interesting literary fiction work. It kepy my attention. I liked the characters much better as children; they kind of annoyed me as adults. Also art features heavily in the book and I think I would have appreciated it more if I knew more about art. (But I took music appreciation in high school and college – I'm a band nerd, thank you very much.) I also disliked the monologuing on philosophy, especially from the characters Boris. I get that's a literary fiction thing, but his thoughts just didn't resonate with me. Boris is an existentialist and a romantic and I am neither. Overall this wasn't a bad read, but not memorable, and I won't pick this up again.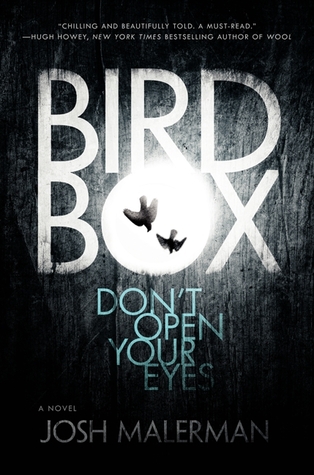 If you have not watched the movie Bird Box on Netflix, go do it right now. It has Sandra Bullock in it, so you will not be disappointed.
Everyone at my work started talking about the movie a few weeks ago, and then I started seeing it all over Twitter, so I had to check it out. Y'all – if you're into psychological thrillers at all, go watch the movie. This is a rare occasion where I'm recommending the movie over the book (although I did see the movie first so it may have just left a bigger impression). The movie is so gripping and so suspenseful. It was incredibly well done. I was on the edge of my seat the entire time. So when I realized it was based on a book, obviously I had to read it.
The book was also written very well. They adapted some things for the screen, which I liked better, but it was a quick, fast-paced read with really good characters. Reading and watching both made me nervous, which is a sign of a great thriller. If you like suspense, the book and movie are both fantastic picks.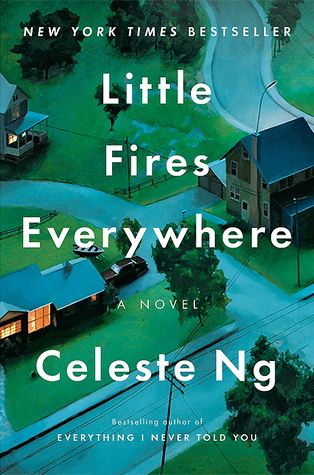 Little Fires Everywhere by Celeste Ng
This was amazing! The whole book was a theme on right and wrong, in a world where every characters is a giant shade of gray. In the context of right and wrong, it touched on motherhood (biological and relational), racism, planning versus impulsiveness, and tradition versus freedom. And all of this was woven together so well. There were a lot of characters – the book follows four families at different times – but everyone felt nuanced and fully fleshed out. It was told from multiple points of view, which is hard to do well, but Ng absolutely killed it. It felt like reading a multigenerational saga on a small scale (and y'all know I love my multigenerational sagas). This would be a great book club pick; there's so much to discuss here and all of it bleeds into real life. I am definitely going to have to read the rest of what Ng has done. She is phenomenal.
Covers from Goodreads.