Becoming by Michelle Obama
In a life filled with meaning and accomplishment, Michelle Obama has emerged as one of the most iconic and compelling women of our era. As First Lady of the United States of America—the first African-American to serve in that role—she helped create the most welcoming and inclusive White House in history, while also establishing herself as a powerful advocate for women and girls in the U.S. and around the world, dramatically changing the ways that families pursue healthier and more active lives, and standing with her husband as he led America through some of its most harrowing moments. Along the way, she showed us a few dance moves, crushed Carpool Karaoke, and raised two down-to-earth daughters under an unforgiving media glare.

In her memoir, a work of deep reflection and mesmerizing storytelling, Michelle Obama invites readers into her world, chronicling the experiences that have shaped her—from her childhood on the South Side of Chicago to her years as an executive balancing the demands of motherhood and work, to her time spent at the world's most famous address. With unerring honesty and lively wit, she describes her triumphs and her disappointments, both public and private, telling her full story as she has lived it—in her own words and on her own terms.
I asked for this for Christmas, because who doesn't love memoirs by incredible people?! The main thing that hit me about this book was just how dang accomplished both the Obamas, but Michelle especially, are. I'll be honest — I knew next to nothing about Michelle Obama besides what everyone else knows about her before I read this. I'm glad I read this, because not only was she an incredible First Lady, she is an amazing person outside of that as well.
I wish I could be as competent and accomplished in my professional life as Michelle Obama. She was hardworking and good at literally everything she tried — and not only that, but she also naturally tended towards jobs that directly impacted large numbers of people, and use those jobs to initiate programs that bettered even more lives than before she was there. That's my career aspiration, honestly: to leave every workplace I'm at in better shape or having served more people better than it was before. It's ambitious and probably unrealistic, but Michelle Obama did it, sooo…
In this book, Michelle has a way of telling her story in a way that's relatable and also inspiring. Her writing style is natural and easy to read. Also, this is not a political book, so anyone on the political spectrum should feel comfortable picking this up. It's about Michelle Obama, not Michelle Obama's agenda. Read this. Read this now.
What Alice Forgot by Liane Moriarty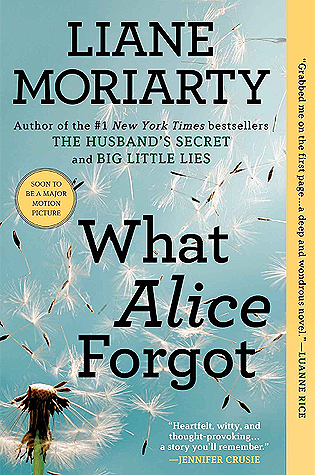 Alice Love is twenty-nine, crazy about her husband, and pregnant with her first child. So imagine Alice's surprise when she comes to on the floor of a gym (a gym! She HATES the gym) and is whisked off to the hospital where she discovers the honeymoon is truly over — she's getting divorced, she has three kids, and she's actually 39 years old. Alice must reconstruct the events of a lost decade, and find out whether it's possible to reconstruct her life at the same time. She has to figure out why her sister hardly talks to her, and how is it that she's become one of those super skinny moms with really expensive clothes. Ultimately, Alice must discover whether forgetting is a blessing or a curse, and whether it's possible to start over…
If you've read any of my book review posts, you know I looove Liane Moriarty. So it's even more surprising that I'm actually not going to rave about this one. (!)
The writing was amazing; don't get me wrong. It was typical Moriarty in that it had great characterization and good sense of place, and the story was entertaining enough. But the beginning felt super slow, and I didn't really feel the suspense of the things Alice didn't remember. I also felt like nothing had really changed by the end (although it did — just didn't feel like it). I think maybe I have read too many books with an amnesia plot. I read two a couple years ago, one a funny take and one very suspenseful. I remember enjoying both more than this.
Young Jane Young by Gabrielle Zevin
This is the story of five women…

Meet Rachel Grossman.
She'll stop at nothing to protect her daughter, Aviva, even if it ends up costing her everything.

Meet Jane Young.
She's disrupting a quiet life with her daughter, Ruby, to seek political office for the first time.

Meet Ruby Young.
She thinks her mom has a secret. She's right.

Meet Embeth Levin.
She's made a career of cleaning up her congressman husband's messes.

Meet Aviva Grossman.
The Internet won't let her or anyone else forget her past transgressions.

This is the story of five women . . .
. . . and the sex sexist scandal that binds them together.
This was an interesting novel with nice characterization. Jane was very closed off to people, but also very empathetic at the same time, which was a nice juxtaposition. The plot dealt with hard emotions with humor and a light attitude, so it was enjoyable to read while still making you think. It did read more like vignettes than the drama I was expecting, and honestly the ending was underwhelming for me. Not a bad read by far, but not over the top amazing.
All images and descriptions from Goodreads.