Gabi, a Girl in Pieces by Isabel Quintera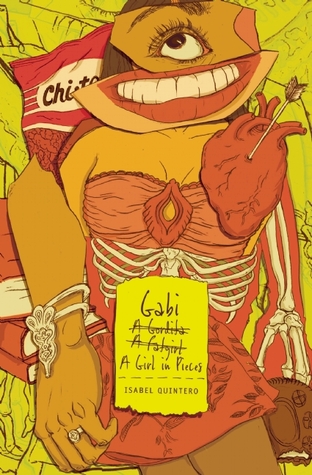 Gabi Hernandez chronicles her last year in high school in her diary: college applications, Cindy's pregnancy, Sebastian's coming out, the cute boys, her father's meth habit, and the food she craves. And best of all, the poetry that helps forge her identity.
Before I picked this up I hadn't read a diary-style novel in a looong time (not counting my attempt at reading Maya's Notebook in Spanish). It was really nice to read this style – it brought me back to my days of the Royal Diaries and Dear America. And this was so well written – Gabi had a fantastic voice, and the characters were great. They were all the exact amount of imperfect – no good vs. evil here. And the characters faced real-world consequences for their decisions, which I loved. It's a mark of a good author when they don't allow their characters to escape bad consequences. It feels much more realistic. Quintera injected a good balance between happy events and sad events in this book, and I thoroughly enjoyed reading it. If you're looking for an authentic-feeling coming of age story, try this.
Rosemary: the Hidden Kennedy Daughter by Kate Clifford Larson
Joe and Rose Kennedy's strikingly beautiful daughter Rosemary attended exclusive schools, was presented as a debutante to the Queen of England, and traveled the world with her high-spirited sisters. And yet, Rosemary was intellectually disabled — a secret fiercely guarded by her powerful and glamorous family. Major new sources — Rose Kennedy's diaries and correspondence, school and doctors' letters, and exclusive family interviews — bring Rosemary alive as a girl adored but left far behind by her competitive siblings. Kate Larson reveals both the sensitive care Rose and Joe gave to Rosemary and then — as the family's standing reached an apex — the often desperate and duplicitous arrangements the Kennedys made to keep her away from home as she became increasingly intractable in her early twenties. Finally, Larson illuminates Joe's decision to have Rosemary lobotomized at age twenty-three, and the family's complicity in keeping the secret.


Rosemary delivers a profoundly moving coda: JFK visited Rosemary for the first time while campaigning in the Midwest; she had been living isolated in a Wisconsin institution for nearly twenty years. Only then did the siblings understand what had happened to Rosemary and bring her home for loving family visits. It was a reckoning that inspired them to direct attention to the plight of the disabled, transforming the lives of millions.
I've always said I don't like history, but the truth is I just never liked history textbooks in school because they're too dry and don't have enough detail. I do enjoy going in depth on specific times and people in history, especially when the story is as compelling as this one.
This was told incredibly well. Historical nonfiction can be hard to get into because of limited resources, but Larson did a great job immersing the reader in Kennedy life. I truly never realized how influential the Kennedy family was (although I should have honestly, given the prevalence of dynasty political families even now). It was also incredibly sad. Not only did it showcase the gross negligence of the doctors who performed the lobotomy, and the desperate picture-perfectionism of the Kennedy patriarch, but it also highlighted the limitations of women, even fantastically wealthy ones. As fascinating and sad as this story was, my biggest takeaway from it was thank god I wasn't born back then.
The Cheerleaders by Kara Thomas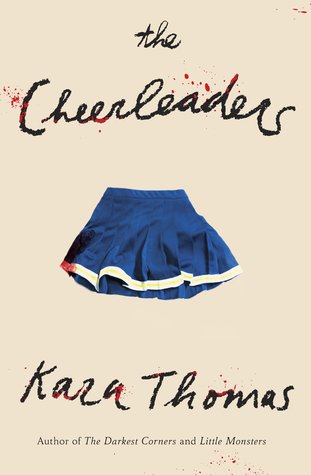 There are no more cheerleaders in the town of Sunnybrook.

First there was the car accident—two girls gone after hitting a tree on a rainy night. Not long after, the murders happened. Those two girls were killed by the man next door. The police shot him, so no one will ever know why he did it. Monica's sister was the last cheerleader to die. After her suicide, Sunnybrook High disbanded the cheer squad. No one wanted to be reminded of the girls they lost.

That was five years ago. Now the faculty and students at Sunnybrook High want to remember the lost cheerleaders. But for Monica, it's not that easy. She just wants to forget. Only, Monica's world is starting to unravel. There are the letters in her stepdad's desk, an unearthed, years-old cell phone, a strange new friend at school. . . . Whatever happened five years ago isn't over. Some people in town know more than they're saying. And somehow Monica is at the center of it all.

There are no more cheerleaders in Sunnybrook, but that doesn't mean anyone else is safe.
This was the just okay-est book of October. I was into the story in the beginning, when the mystery was building and we were getting to know characters. But the farther I got into it, the more it was just meh. The characters and plot were fine, but I felt like the entire story depended on multiple different characters being very okay with telling a random kid they didn't know a lot of details about their past personal lives. Monica, the main character, tried to figure out what happened to her sister by talking to her sister's old friends, and at least three of them seemed to bristle at her questioning, but then gave her intimate, personal details without her prompting. That would've been okay for one character, or even two, but by the third it just felt lazy and repetitive.
Though I didn't love that, I did finish the book. I didn't see the perp coming, so it was a nice surprise, and the side-story about Ginny and her father at the end was awesome. I wish that had been worked in a bit more, but that's a nitpicky thing. This is definitely worth the time if YA coming-of-age murder mysteries are your thing.
All images and descriptions from Goodreads.