Pachinko by Min Jin Lee
Yeongdo, Korea 1911.
In a small fishing village on the banks of the East Sea, a club-footed, cleft-lipped man marries a fifteen-year-old girl. The couple have one child, their beloved daughter Sunja. When Sunja falls pregnant by a married yakuza, the family face ruin. But then Isak, a Christian minister, offers her a chance of salvation: a new life in Japan as his wife.
Following a man she barely knows to a hostile country in which she has no friends, no home, and whose language she cannot speak, Sunja's salvation is just the beginning of her story.
Through eight decades and four generations, Pachinko is an epic tale of family, identity, love, death and survival.
I cannot say enough good things about this 500-page masterpiece.  Multigenerational, historical family sagas are maybe my absolute favorite subgenre of all time (is it a subgenre, or a style?), and this one was done exceptionally well.
Sunja could be considered the main character, but the story is told from the perspective of almost every character at some point in the book.  This is hard to pull off, but Lee did it masterfully, giving a unique voice and nuance to every character.  The nuance is what I adored most about this; no one character was "good" or "bad;" they were all just trying to do what was right, sometimes at the expense of others.  It was an incredible reflection of the human experience, no matter your economic status.  I also learned a lot about Korean/Japanese relations through the years before and after WWII, none of which I had heard before.  I highly, highly recommend this, especially if you have enjoyed books like The Kite Runner or A Tale for the Time Being.
---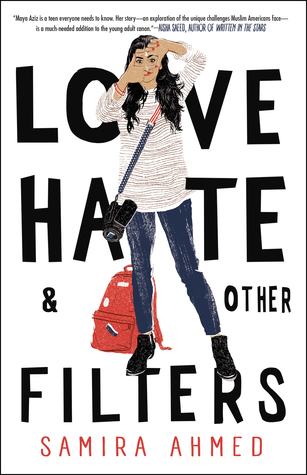 Love, Hate, and Other Filters by Samira Ahmed
American-born seventeen-year-old Maya Aziz is torn between worlds. There's the proper one her parents expect for their good Indian daughter: attending a college close to their suburban Chicago home, and being paired off with an older Muslim boy her mom deems "suitable." And then there is the world of her dreams: going to film school and living in New York City—and maybe (just maybe) pursuing a boy she's known from afar since grade school, a boy who's finally falling into her orbit at school.
There's also the real world, beyond Maya's control. In the aftermath of a horrific crime perpetrated hundreds of miles away, her life is turned upside down. The community she's known since birth becomes unrecognizable; neighbors and classmates alike are consumed with fear, bigotry, and hatred. Ultimately, Maya must find the strength within to determine where she truly belongs.
Love, Hate, and Other Filters is more of a love story than anything, and while YA romance isn't my favorite, it was really refreshing to read this.  The plot was well-balanced between romance, friendships, family, and identity; Maya felt realistic.  She was wiser than her years and immature at different times, which I feel accurately reflects her age group.  I also liked that while her Indian Muslim culture and the struggles that go with that were featured prominently, the book didn't feel like it was pushing an agenda.  Anyone looking for basic YA featuring nonwhite characters will really enjoy this.
I do feel like Phil's character was a tiny bit unrealistic, with regards to how romantic he is.  Maybe the 18-year-old guys I know are just super unthoughtful, but I've never known a guy that age to dream up/create/decorate for/get super dressed up for a pseudo-prom with his not-girlfriend.  (Correct me if I'm wrong, I guess.)  I appreciated that as a teen, but I think a lot of romances written for young women can give us the wrong expectation as to how romantic partners are going to act in the real world.  YA like this can be fun to dream about, but often sets us up for disappointment.  I'd like to see a YA romance with an unthoughtful, awkward (not awkward-cute, but truly awkward), unsure male protag, because I think more of those types of teens exist and we need to show that that is not always a bad thing.  (It's more of a recognizing growth thing.)  That applies to this book as well as YA as a whole.  But for this book, overall it wasn't a deal breaker and I'd still recommend.
---
The Astonishing Color of After by Emily X.R. Pan
Leigh Chen Sanders is absolutely certain about one thing: When her mother died by suicide, she turned into a bird.
Leigh, who is half Asian and half white, travels to Taiwan to meet her maternal grandparents for the first time. There, she is determined to find her mother, the bird. In her search, she winds up chasing after ghosts, uncovering family secrets, and forging a new relationship with her grandparents. And as she grieves, she must try to reconcile the fact that on the same day she kissed her best friend and longtime secret crush, Axel, her mother was taking her own life.
I have always associated magical realism with Latinx authors, but this book expanded my view of the genre.  It took me awhile to get into; I knew it had fantasy elements, but I didn't realize how much, and fantasy hasn't been my thing in a long time.  However, it was a good story about family and loss.  Pan jumped around in time a lot, and it sometimes felt more like a series of vignettes than one full plot, but it worked.  It was an interesting change from normal story progression and Pan pulled the threads together well.  This is a longer YA, but I was interested the whole way through.  I really liked learning a bit about Taiwanese culture, although the story was more about grief and loss than cultural heritage.
The one thing that got on my nerves was that Leigh, the main character, described literally everything as a color.  It does make sense, since she was an artist, and I got used to it after awhile, but that did annoy me towards the beginning.  Also, this is possibly not the best book to read for someone who has thought seriously of suicide.  I know it is fantasy, but the fact that Leigh's mother got to tie up her loose ends as a bird after death could possibly give the impression (even a subconscious one) that suicide isn't final.  Just a thought for those who may struggle with that.  Overall, this was an enjoyable and touching read.
---
I am Not Your PerfectMexican Daughter by Erika L. Sanchez
Perfect Mexican daughters do not go away to college. And they do not move out of their parents' house after high school graduation. Perfect Mexican daughters never abandon their family.
But Julia is not your perfect Mexican daughter. That was Olga's role. 
Then a tragic accident on the busiest street in Chicago leaves Olga dead and Julia left behind to reassemble the shattered pieces of her family. And no one seems to acknowledge that Julia is broken, too. Instead, her mother seems to channel her grief into pointing out every possible way Julia has failed.
But it's not long before Julia discovers that Olga might not have been as perfect as everyone thought. With the help of her best friend Lorena, and her first kiss, first love, first everything boyfriend Connor, Julia is determined to find out. Was Olga really what she seemed? Or was there more to her sister's story? And either way, how can Julia even attempt to live up to a seemingly impossible ideal?
This was my least favorite read from this month, which is not what I would have predicted.  I was expecting the mystery of Olga's life to be more central to the main plot.  It turned out to be more like an important subplot, but a subplot all the same.  Despite that, here's what I did like: the theme of the book was about coming to terms with cultural differences.  Julia and Olga are the children of immigrants, so they grew up in a home that was very different than their outside environment.  When your inherited culture seems to be the opposite of the one you live in, it's really hard to reconcile that, especially when your dead older sister embodied the inherited ideal.  The whole point of the story was how Julia worked through her guilt at being different while grieving for someone she was close to, but maybe not as close as she thought.
That said, Julia's character felt kind of forced to me.  She had a personality at the beginning — we saw that she was a feminist and wanted to be a writer.  But some of those personality traits never really got any background, and while that's not always necessary, I felt like the ones Sanchez chose for Julia were more to push an agenda and not so much to represent a person.  It's an agenda I agree with, but in the novel I think it came off too strong.  I also feel like there was a lull in action throughout the middle of the book.  This could be intentional, as we find out later Julia was seriously depressed, but it felt slow.  It picked up a bit when her parents sent her to Mexico to stay with relatives for a change of scenery, and that was the best part of the book, as her family turned out to be awesome side characters.
---
All images and descriptions from Goodreads.