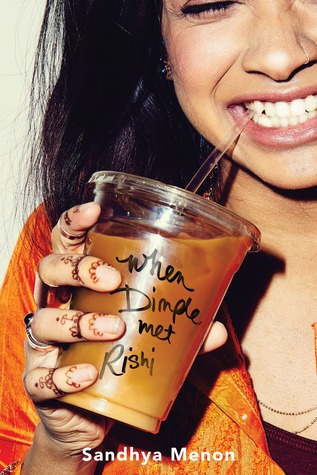 When Dimple Met Rishi by Sandhya Menon
Dimple Shah has it all figured out. With graduation behind her, she's more than ready for a break from her family, from Mamma's inexplicable obsession with her finding the "Ideal Indian Husband." Ugh. Dimple knows they must respect her principles on some level, though. If they truly believed she needed a husband right now, they wouldn't have paid for her to attend a summer program for aspiring web developers…right?
Rishi Patel is a hopeless romantic. So when his parents tell him that his future wife will be attending the same summer program as him—wherein he'll have to woo her—he's totally on board. Because as silly as it sounds to most people in his life, Rishi wants to be arranged, believes in the power of tradition, stability, and being a part of something much bigger than himself.
The Shahs and Patels didn't mean to start turning the wheels on this "suggested arrangement" so early in their children's lives, but when they noticed them both gravitate toward the same summer program, they figured, Why not?
Dimple and Rishi may think they have each other figured out. But when opposites clash, love works hard to prove itself in the most unexpected ways.
I really, really wanted to like this book.  It had so much going for it — Indian culture in America, exposure to healthy arranged marriages, women in tech.  What's not to love??
For me, a lot.  That "a lot" can be condensed down into two main issues.  The first one was that the characters just sucked — all of them.  Rishi and Dimple were both too perfect.  Rishi is an 18-year-old kid that has never been in a relationship, but he somehow gets everything right.  He gets jealous at the right moments, loves Dimple's flaws (which we'll get to in a sec), and is sexy without being pushy.  It all sounds great, but it felt super unrealistic to me.  He was flat; a teenage fantasy rather than a true-to-life representation.  Dimple's problem was that she was portrayed as a dream girl when she was anything but.  She is the epitome of the "not like other girls" trope, which was just annoying.  She's argumentative and at times physically abusive to Rishi, who conveniently brushes this off.  And she was inconsistent; one moment melting under Rishi's gaze and the next being mad that she even liked him.  While this could be called a true representation of teenage girlhood, it was not executed well.  Finally, all of the side characters were either complete stereotypes or only there to prop up Dimple's view of makeup and clothes as vapid.  A lot more work should have been done on characters before publication.
If the characters had been better, I might have been able to forgive the plot, but given they sucked, the plot fell flat, too.  The back cover copy describes the coding contest as a central theme in the novel, but there was precious little page space devoted to tech.  Instead, the focus was mostly on a comic convention Dimple and Rishi attended one weekend, and a talent show held as a break from coding.  To me, it felt like the competition was used as a token only.  If I were Menon's editor, I would have had her beef up the coding aspect or scratch it altogether.  The rest of the novel could have easily just taken place during a plain old boring summer break.
Like I said, I really wanted to like this, but the writing was just too problematic.  I'd be willing to give Menon another shot, since this her debut novel, but if her next works are anything like this, I'm done.
Dear Martin by Nic Stone
Justyce McAllister is top of his class and set for the Ivy League—but none of that matters to the police officer who just put him in handcuffs. And despite leaving his rough neighborhood behind, he can't escape the scorn of his former peers or the ridicule of his new classmates. Justyce looks to the teachings of Dr. Martin Luther King Jr. for answers. But do they hold up anymore? He starts a journal to Dr. King to find out.
Then comes the day Justyce goes driving with his best friend, Manny, windows rolled down, music turned up—way up, sparking the fury of a white off-duty cop beside them. Words fly. Shots are fired. Justyce and Manny are caught in the crosshairs. In the media fallout, it's Justyce who is under attack.
If you're looking to read a well-written book and learn about race relations in America at the same time, this is for you.  It is similar to Angie Thomas' The Hate U Give, but is different enough that it's 100% worth the read.  I'm a white woman, so I can't speak to what black Americans experience daily, and that's why I picked this up.  It is so, so important for us to understand others' lives, and this offers a powerful glimpse into being a young black man in the US.
Justyce doesn't really feel like he fits into any aspect of society; at his school, he's the black kid, and at home, he's a traitor.  (That experience reminds me of the immigrant experience, and also of The Absolutely True Diary of a Part-Time Indian.)  The story deals with the obvious relations between white cops and black kids, and with socio-economic dichotomies, but one other thing I liked was how Justyce wrestles with the fact that his crush is a white girl.  His mother doesn't want him dating white women, and it was interesting to see that tension exposed.
All in all, I don't have any complaints with this.  The characters were well-rounded, the plot was relevant, and it was easy and engaging to read.  If you're on the fence, read this book.  It's a worthy use of a few hours.
The Last Anniversary by Liane Moriarty
Sophie Honeywell always wondered if Thomas Gordon was the one she let get away. He was the perfect boyfriend, but on the day he was to propose, she broke his heart. A year later he married his travel agent, while Sophie has been mortifyingly single ever since. Now Thomas is back in her life because Sophie has unexpectedly inherited his aunt Connie's house on Scribbly Gum Island — home of the famously unsolved Munro Baby mystery.
Sophie moves onto the island and begins a new life as part of an unconventional family where it seems everyone has a secret. Grace, a beautiful young mother, is feverishly planning a shocking escape from her perfect life. Margie, a frumpy housewife, has made a pact with a stranger, while dreamy Aunt Rose wonders if maybe it's about time she started making her own decisions.
As Sophie's life becomes increasingly complicated, she discovers that sometimes you have to stop waiting around — and come up with your own fairy-tale ending.
I read Liane Moriarty when I want a good mystery, because she's consistently good.  This is one of her earlier works, but it's just as good as the ones that are now being made in TV shows (Big Little Lies, anyone?).  I feel like I say the same things about her every time, but that's because she's just good.  Her characters are cute, developed, and quirky.  Her settings are sweet and vivid, especially here.  Who doesn't love a family island mystery?  And the twists are just shocking enough.  I actually guessed this one, which hasn't happened with any of her books yet.  I don't know if it's because I'm familiar with her writing or because her writing developed more during her later books, but either way, it didn't put a damper on the reading experience.  As always, if you need a good mystery thriller, look no further!
Cover images and descriptions from Goodreads.