Today Will Be Different by Maria Semple
Eleanor knows she's a mess. But today, she will tackle the little things. She will shower and get dressed. She will have her poetry and yoga lessons after dropping off her son, Timby. She won't swear. She will initiate sex with her husband, Joe. But before she can put her modest plan into action — life happens. Today, it turns out, is the day Timby has decided to fake sick to weasel his way into his mother's company. It's also the day Joe has chosen to tell his office — but not Eleanor — that he's on vacation. Just when it seems like things can't go more awry, an encounter with a former colleague produces a graphic memoir whose dramatic tale threatens to reveal a buried family secret.
Where'd You Go, Bernadette is Semple's most popular work, and I've been meaning to read it, but this was what was available at the library.  It was reviewed as hilarious, and it sounds great, doesn't it?  Too bad it fell a bit flat for me.
Honestly, I think the generational gap between me and the main character was too much.  Eleanor is in her mid-40s, which means she has almost twice as much life experience as me.  Because I haven't been through the life stages she has, some of the jokes missed me a bit — we all know jokes are funniest when we've experienced whatever we're joking about.  Also, Eleanor was just odd — she overreacted to some things and blew other, much larger things off.  She seemed a tad inconsistent, but not so bad that it threw the story off.
I did enjoy the family element — the sibling relationship aspect was the most interesting to me.  It didn't quite get resolved at the end, which was obnoxious — it was like Eleanor (or Semple) forgot about that thread.  But overall, it was a pretty entertaining read, and it might fare better with the middle age audience it was intended for.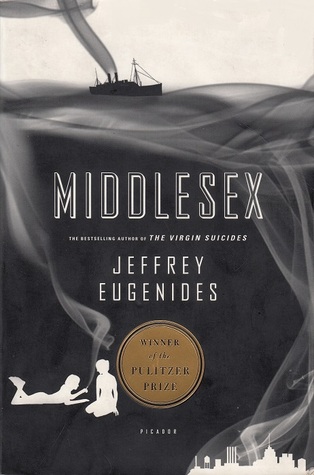 Middlesex by Jeffrey Eugenides
Middlesex tells the breathtaking story of Calliope Stephanides, and three generations of the Greek-American Stephanides family, who travel from a tiny village overlooking Mount Olympus in Asia Minor to Prohibition-era Detroit, witnessing its glory days as the Motor City and the race riots of 1967 before moving out to the tree-lined streets of suburban Grosse Pointe, Michigan. To understand why Calliope is not like other girls, she has to uncover a guilty family secret, and the astonishing genetic history that turns Callie into Cal, one of the most audacious and wondrous narrators in contemporary fiction. Lyrical and thrilling, Middlesex is an exhilarating reinvention of the American epic. 
I first read this when I studied abroad in Costa Rica and loved it.  It is 1000% worth a re-read.  Middlesex has all my favorite elements in a literary novel: it's multi-generational and spans across decades, self-identification is a main theme, the characters are from a culture and time different from mine, and it deals with heavy topics in an elegant way.  It's a coming-of-age story — actually, it's several coming-of-age stories.  There is heartbreaking tragedy.  There's young love.  There's confusion and worry and the feeling of not being known.  Every single character — and by that I mean literally every single character, no matter how brief the mention — is a human, has a story, and feels just as real as anyone I've ever met in real life.  The characters are simultaneously benevolent and selfish, intelligent and ignorant, noble and base.  If I ever find a hard copy of this, I am buying it, because this is a book that deserves to be bought and read and re-read and displayed and discussed and it's amazing and you should read it.
Blue Like Jazz by Donald Miller
In Donald Miller's early years, he was vaguely familiar with a distant God. But when he came to know Jesus Christ, he pursued the Christian life with great zeal. Within a few years he had a successful ministry that ultimately left him feeling empty, burned out, and, once again, far away from God. In this intimate, soul-searching account, Miller describes his remarkable journey back to a culturally relevant, infinitely loving God.
I absolutely loved this collection of essays in high school.  I recently found it again at a used bookstore, so given my recent change of heart, I decided to try it again.
The good news: I still liked it this time around.  Overall, I think it's a better view of Christianity than most churches have these days, so it was nice to read as I'm going back into that mindset (even as I'm fighting the traditional conservative Christian viewpoint — ugh).  It's a little irreverent, well-written, and as down-to-earth as a Christian white man in America can get.
The bad news: I realized that Miller is a little pretentious, and also a tad sexist.  This was published in the 90s, so I have hope that Miller may have amended his views a bit.  Just be warned that if you pick this up, there will be a few sexist comments, but nothing blatant or unforgivable.  And you might get the feeling that you're reading the work of a poet who thought more of himself than the world did.  But it is good writing, so maybe a little pretentiousness is deserved.
Mere Christianity by C.S. Lewis
Mere Christianity is C.S. Lewis's forceful and accessible doctrine of Christian belief. First heard as informal radio broadcasts and then published as three separate books – The Case for Christianity, Christian Behavior, and Beyond Personality – Mere Christianity brings together what Lewis saw as the fundamental truths of the religion. Rejecting the boundaries that divide Christianity's many denominations, C.S. Lewis finds a common ground on which all those who have Christian faith can stand together, proving that "at the centre of each there is something, or a Someone, who against all divergences of belief, all differences of temperament, all memories of mutual persecution, speaks the same voice."
One of my best friends gifted me a copy of this a few months ago, and I finally decided to try it out.  I've read and enjoyed a lot of C.S. Lewis before.  The Chronicles of Narnia saga was a childhood favorite, and I've read and enjoyed The Screwtape Letters, Perelandra, and Out of the Silent Planet, although those last three are a bit heavy on the theology side (and we all know I prefer a good story).
I've stagnated on this one a bit.  It's interesting, and his ideas are presented in a way that's easy to understand (because it was originally a radio show).  I don't really agree with all of it though; I think that Lewis was definitely a product of his time, and a few of his views are a bit archaic.  It's definitely not going to take Narnia's place as a Lewis favorite, but I'll slog along and finish it, I suppose.
The Case for a Creator by Lee Strobel
During his academic years, Lee Strobel became convinced that God was outmoded, a belief that colored his ensuing career as an award-winning journalist at the Chicago Tribune. Science had made the idea of a Creator irrelevant – or so Strobel thought. But today science is pointing in a different direction. In recent years, a diverse and impressive body of research has increasingly supported the conclusion that the universe was intelligently designed. At the same time, Darwinism has faltered in the face of concrete facts and hard reason.Has science discovered God? At the very least, it's giving faith an immense boost as new findings emerge about the incredible complexity of our universe. Join Strobel as he re-examines the theories that once led him away from God. Through his compelling and highly readable account, you'll encounter the mind-stretching discoveries from cosmology, cellular biology, DNA research, astronomy, physics, and human consciousness that present astonishing evidence in The Case for a Creator.
I read The Case for Christ recently, so I of course had to follow with this.  I'll be honest — I grew up in a very Christian environment, so I've heard a lot of this before.  The homeschool co-ops I attended were Christian, and so apologetics was intertwined with a lot of my science.  I hope that doesn't give you a skewed view of my high school education — we learned actual science, just like everyone else.  But my teachers, as Christians in a Christian environment, liked to point out the unfathomable odds of the systems we see in biology, chemistry, and astronomy being created from nothing over time.  So like I said, I've heard a lot of this before.
Because of that, I didn't enjoy this one quite as much as I did The Case for Christ, but it was interesting.  Even if you don't go in with a Christian viewpoint, it's an incredible showcase of our planet and universe.  It gives of overview of the universe from our situation in the solar system down to the complexity of one-celled organisms.  It's a good read, and you don't have to have a ton of background science knowledge to be able to appreciate the complexity and utter coolness of this weird little planet we live on.
Covers/descriptions from Goodreads.