My Sunshine Away by M. O. Walsh
"It was the summer everything changed…." 
My Sunshine Away unfolds in a Baton Rouge neighborhood best known for cookouts on sweltering summer afternoons, cauldrons of spicy crawfish, and passionate football fandom. But in the summer of 1989, when fifteen-year-old Lindy Simpson–free spirit, track star, and belle of the block–experiences a horrible crime late one evening near her home, it becomes apparent that this idyllic stretch of Southern suburbia has a dark side, too. 
In My Sunshine Away, M.O. Walsh brilliantly juxtaposes the enchantment of a charmed childhood with the gripping story of a violent crime, unraveling families, and consuming adolescent love. Acutely wise and deeply honest, it is an astonishing and page-turning debut about the meaning of family, the power of memory, and our ability to forgive.
This was a weird book to read.  I enjoyed the writing immensely — it's one of those books where the setting is a character in itself, so it made the whole reading experience feel very real.  The story was also gripping — in 1989, Lindy gets raped, and there were four main suspects, of whom the narrator is one.  The story unfolds as a nostalgic but troubled look back once the narrator has reached adulthood.
The thing that was weird about this book was the narrator himself.  He was a childhood friend of Lindy's, and in the beginning, seems like a normal kid.  He starts by talking about their shared childhood, the other neighborhood kids, and the fun they all had together.  But the longer he talks, the more "cringey" he seems.  Over the years, he develops this weird obsession with Lindy and the lines of what's okay and what's not start to blur.  Honestly, I hated him.  He did things knowing good and well they were wrong and gross, and hid a lot of what he did from his family and other friends.  Some of that is normal for a kid, but some of it is not.  He spends the entire book trying to win Lindy's companionship somehow, and never quite succeeds.
Though I didn't like the narrator, this was a fascinating book to read.  The other characters were well-developed, the plot was realistically complicated, and there were secrets revealed near the end that made a lot of things make more sense.  This is a good choice for anyone who enjoys a well-crafted and well-told story.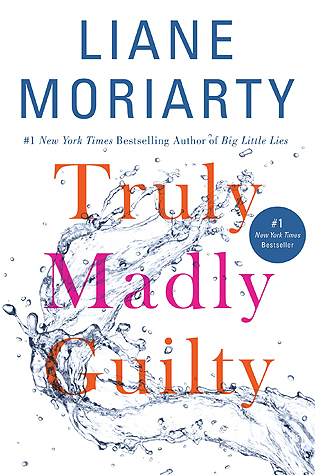 Truly Madly Guilty by Liane Moriarty
Six responsible adults. Three cute kids. One small dog. It's just a normal weekend. What could possibly go wrong?
Sam and Clementine have a wonderful, albeit, busy life: they have two little girls, Sam has just started a new dream job, and Clementine, a cellist, is busy preparing for the audition of a lifetime. If there's anything they can count on, it's each other.
Clementine and Erika are each other's oldest friends. A single look between them can convey an entire conversation. But theirs is a complicated relationship, so when Erika mentions a last minute invitation to a barbecue with her neighbors, Tiffany and Vid, Clementine and Sam don't hesitate. Having Tiffany and Vid's larger than life personalities there will be a welcome respite.
Two months later, it won't stop raining, and Clementine and Sam can't stop asking themselves the question: What if we hadn't gone?
I have loved everything I've ever read by Liane Moriarty.  I always read her books in just a day or two because I can't put them down.  Truly Madly Guilty was amazing.
This one was written from the perspective of all the characters, and Moriarty has a distinct voice and character for each one.  It was interesting to learn the motives and secrets of each character, and once you knew some of those, you could tell how it colored their interactions with the other characters.  As with any book like this, actions and words were misinterpreted, offenses were seemingly shrugged off, and horrible things happened at the happiest of moments.  Also, there's a twist at the end of the novel that was more heart-wrenching than the entire rest of the book.  If you like suspense, you probably already know that this is a good choice.
The Case for Christ by Lee Strobel
Using the dramatic scenario of an investigative journalist pursuing his story and leads, Lee Strobel uses his experience as a reporter for the Chicago Tribune to interview experts about the evidence for Christ from the fields of science, philosophy, and history.
This was fascinating for entire different reasons than the two above.  The book is sectioned off into interviews, with each chapter having a topic.  Strobel always starts out with a legal anecdote from his reporting days, and then introduces his interviewees, touting their achievements.  Then he goes into the interview, writing it in a casual dialogue format.
I understand that there are a lot of criticisms for this book.  A few are that logical fallacies are evident in many of the arguments, that since Strobel presents the book as reportorial it leads people to believe that it's more accurate than it is, and that much of the evidence is colored by personal experience since most (if not all) of the people Strobel interviews are already Christians.  However, I don't think this book should be discredited.  If you're reading this because you are seriously trying to look into the validity of Christianity, it shouldn't be the only book you read, but it's a good, interesting, and easily understood starting point.
Descriptions and covers from Goodreads.