The Hate U Give by Angie Thomas
Sixteen-year-old Starr Carter moves between two worlds: the poor neighborhood where she lives and the fancy suburban prep school she attends. The uneasy balance between these worlds is shattered when Starr witnesses the fatal shooting of her childhood best friend Khalil at the hands of a police officer. Khalil was unarmed.
Soon afterward, his death is a national headline. Some are calling him a thug, maybe even a drug dealer and a gangbanger. Protesters are taking to the streets in Khalil's name. Some cops and the local drug lord try to intimidate Starr and her family. What everyone wants to know is: what really went down that night? And the only person alive who can answer that is Starr. 
But what Starr does—or does not—say could upend her community. It could also endanger her life.
This book is a work of fiction, but it may as well be completely true, given how many young unarmed black men have been killed by police in recent years.  It's a vitally important book and an incredibly well-written work.
First, about the writing itself: this book is so well-crafted.  Every character is ridiculously realistic.  Starr's family dynamics are incredible, with her parents being more present — and more true to life — than any other YA book I have read (and I've read several with good parent characters).  Starr's friends are complex also — they have hidden hopes and dreams that show through and they deal with their own issues.  Starr's boyfriend is also wonderfully written.  He makes dumb teenage mistakes, but owns up to them and honestly tries to be a good person.  I cannot say enough good things about the characters here, and that should tell you all you need to know about this book.
Second, the importance of this book cannot be overestimated.  As a white woman, reading this book is about as close as I can get to truly understanding what it is to be black in today's world.  In addition to showing the blatant unfairness and discrimination against young black men, Thomas shows how Starr filters herself around her white friends because of small, thoughtless, but still discriminatory, comments that they routinely make.  It shows overt and covert racism and how both are damaging.  But she also shows how to respectfully learn — Starr's boyfriend is white, and when he starts hanging out with Starr's black friends, they talk about racism and what's okay for him to do and say and what isn't.
I don't care how old you are or what color or are or what books you like — this is a book you should read, because this is the world we live in.
The Couple Next Door by Shari Lapena
You never know what's happening on the other side of the wall.
Your neighbor told you that she didn't want your six-month-old daughter at the dinner party. Nothing personal, she just couldn't stand her crying.
Your husband said it would be fine. After all, you only live next door. You'll have the baby monitor and you'll take it in turns to go back every half hour.
Your daughter was sleeping when you checked on her last. But now, as you race up the stairs in your deathly quiet house, your worst fears are realized. She's gone.
You've never had to call the police before. But now they're in your home, and who knows what they'll find there.
What would you be capable of, when pushed past your limit?
I read this book in about four hours, because I couldn't put it down.  It was gripping.  It was was exciting.  It was horrifying.  There were twists and turns I didn't expect at all.  The characters had secrets, as all good thriller characters must.
Many other reviews on Goodreads accuse this book of being ridiculous.  And maybe it is, but what's a good thriller without some ridiculous twists and turns?  If crime thrillers are a type of book you enjoy, this is an excellent choice.  It's true to the genre, the writing is solid, and it's an entertaining way to spend a few hours.  I'd recommend this, not as something you absolutely must read, but as one I'd pass by in a bookshop and say, oh yeah, that was pretty dang good.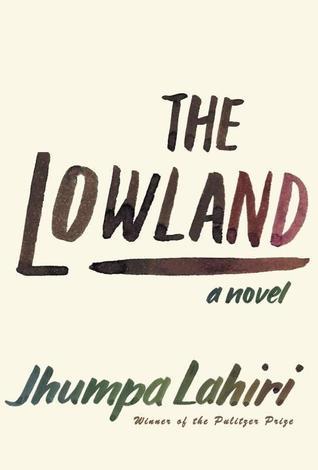 The Lowland by Jhumpa Lahiri
Two brothers bound by tragedy; a fiercely brilliant woman haunted by her past; a country torn by revolution. A powerful new novel–set in both India and America–that explores the price of idealism and a love that can last long past death.
Growing up in Calcutta, born just fifteen months apart, Subhash and Udayan Mitra are inseparable brothers, one often mistaken for the other. But they are also opposites, with gravely different futures ahead of them. It is the 1960s, and Udayan–charismatic and impulsive–finds himself drawn to the Naxalite movement, a rebellion waged to eradicate inequity and poverty: he will give everything, risk all, for what he believes. Subhash, the dutiful son, does not share his brother's political passion; he leaves home to pursue a life of scientific research in a quiet, coastal corner of America.
But when Subhash learns what happened to his brother in the lowland outside their family's home, he comes back to India, hoping to pick up the pieces of a shattered family, and to heal the wounds Udayan left behind–including those seared in the heart of his brother's wife.
Suspenseful, sweeping, piercingly intimate, The Lowland expands the range of one of our most dazzling storytellers, seamlessly interweaving the historical and the personal across generations and geographies. This masterly novel of fate and will, exile and return, is a tour de force and an instant classic.
When I read Lahiri's The Namesake, I knew I had to read more.  The types of books that Lahiri writes may be my favorites types of all time — books about families that span decades and follow the characters throughout the majority of their lives.  These are stories that aren't really happy, but aren't really sad — there are moments of despair and moments of hope.  There are characters that hate themselves and characters that rise up from impossible circumstances.  There are those that heal themselves and those that carry open wounds forever.  And you get to see how each of these people turn out, how their lives affect those that come after them.  Lahiri's books are stories about individuals and family units, all in one.
I love stories about immigrants, especially Latino or Indian immigrants, so that was one aspect of this book that I loved.  I also loved that though the characters' lives were wildly up and down, the book ended on a hopeful note.  I loved that the book was told from multiple perspectives — this can be hard to pull off, but Lahiri does it so elegantly that she doesn't even need headings for the different sections — it's easy to distinguish who she is talking about.  I loved that the ending wasn't completely happy, either, because life isn't completely happy.  This book is a beautiful representation of life and I wholeheartedly recommend it and anything else by her.
Covers and synopses from Goodreads