While I've been neglecting my blog, I've been exploring the libraries and bookstores in my new city.  As it turns out, the libraries here fell way below my expectations, especially compared to the city where I grew up.  I jokingly-but-not wish I had visited the libraries before I moved here, but it is what it is.  And we do at least have a McKay's, which is a giant, hugely popular book, movie, and music thrift shop — the absolute best kind of shop for browsing.  So here's what I've picked up in the last couple of months.
A Long Way Home by Saroo Brierly
My mom likes to say her favorite movie genre is "based on a true story," and mine has become the same.  Sometime this summer, we watched the movie Lion.  Saroo, born in India, got lost as a 5-year-old and lived on the streets of Calcutta for months.  He eventually ended up being adopted by an Australian family when no one could figure out where he came from.  He grew up Australian, but as an adult, remembered snippets of India, and used Google Maps to track his way back to his birth family.  The movie is an incredible, chilling rendition of this incredible, chilling true story.  Stuff like this cannot be made up; when they say the truth is stranger than fiction, this story is what they're talking about.  Read this book; watch the movie.  This is one I won't forget for a long time.
Smashed: Story of a Drunken Girlhood by Koren Zailckas
Another true story/memoir/autobiography, this is the testimony of Koren, a girl who was introduced to alcohol at age 14 and didn't look back for almost a decade.  Written during the time of her life when she realized just how much of life she was missing out on because of alcohol, it's a detailed reflection of what could almost be considered lost years.  Koren, once she had had a taste, used alcohol to fill all the voids in her life because she didn't know what else to do.  She drank her way through middle school, high school, and college, never quite getting physically addicted but never able to give it up.  It's sad story, and sluggish at times because of the sheer amount of detail in it.  But Koren has a way with words.  She uses a lot of metaphor, which has drawn a lot of criticism on Goodreads, but I enjoyed her writing style because it felt graceful and genuine.  It's obvious that Koren still has issues to work through, but don't we all?
My final comments on this story are these: when I was glancing through the Goodreads reviews, I was appalled by the sheer amount of people who seem to hate Koren (not just her book, but Koren herself) because she was a sorority girl and because she wrote and was successful with this book so soon after she stepped away from alcohol for good.  What the crap, people?  Can't we just let this girl help herself through her writing, through sharing her story?  The book was a New York Times best seller — it's obvious that this is something that affects a lot of us.  Why tear down something that Koren should be proud of?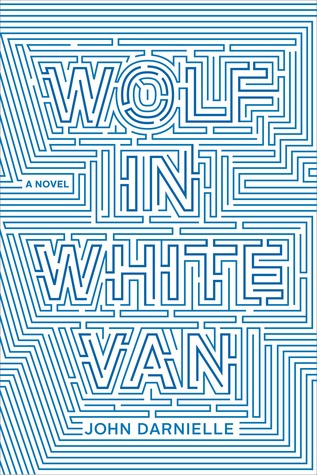 Wolf in White Van by John Darnielle
This is a story, told in reverse, of a man named Sean who shrinks from society after a horrible accident that disfigured his face.  He makes a living by creating and running an adventure game that is played through the mail.  But when two teen players experience tragedy because they attempted to recreate the game in the real world, Sean has to face the world again, and at the same time, his past.
This was a weird book to read.  Sean has a pleasant, nonchalant tone about him, but it's obvious he hides something.  His life, and the chapters, are quiet, but things are revealed each chapter almost without the reader noticing.  As you piece together his life, and how it turned out this way, it gets more and more horrible.  And while the how behind his disfigurement is revealed, the why is much harder to grasp.  A lot of this book is implicit, but it's obvious it deals with self-hate and depression without offering much hope or ways out.  This is one I would love to read with others in an analytical setting.
The Handm
aid's Tale by Margaret Atwood
I'll be honest; I only read this book because none of the other books I wanted to read were available at the library, and because of the new Hulu show based on it (which I haven't seen).  And I wasn't really that impressed.  It was boring and hard to get into at first.  It's a book that very obviously tries to make a point, and so it's a little two-dimensional.  I feel like the explanation for the dystopian society was a little weak and lacking in depth.  The characters were a bit flat also.  Some of my complaints could be because the whole book is supposed to be the transcript of a recording that was made supposedly long ago.  It's a historical document being analyzed by professors in the year 29something.  But even so, this just wasn't anything that particularly struck me.  If you want to read about dystopia, read the Hunger Games trilogy.  They're put together much better.
Small Admissio
ns by Amy Poeppel
This is the story of Kate Pearson, who finds herself thrown for a complete loop after her serious boyfriend dumps her.  She wallows in her sadness for months, but after her sister's prodding, finally gets a job in admissions at a prestigious private school.  As she's getting back on her feet, her friends are keeping secrets, parents are doing inane things for an acceptance at the school, and her sister is learning to let go.
This is a fluffy book, like I expected it to be.  And it was delightful.  I did have a couple complaints — a parent of a student-hopeful begins to narrate about a third of the way through the book, which threw me for a loop.  I think she should have been introduced earlier.  And near the end, I felt the story had wrapped up nicely, and then there was an incident that seemed to drag the book out a few more chapters and didn't do a whole lot for Kate's character arc.  But overall, this was so fun to read.  The characters were interesting and distinct, there were surprises I didn't see coming, and it was a great story about changing your expectations for life and being okay with that.  It was definitely a few hours well spent.
All images from Goodreads.