Recently I've been into Parks and Recreation.  I know I'm super late to the party, but I'm fully on board now.  I love this show.  Not only does it make me laugh out loud, but the characters are lovable and realistic — any one of them could be an actual person, and I have really enjoyed seeing their lives unfold as I watch every season as fast as possible.
One of the things I love most is that every character has a full life.  Leslie Knope, of course, has a loving family, a fulfilling job, and is surrounded with friends.  Tom Haverford, though it took him several seasons to really blossom, achieved his dream of owning his own business.  Ron Swanson is very much his own person, but still cares about people in his own gruff way, and ends up doing exactly what he loves — construction.  I know they all are fictional characters, and that their lives are planned by writers to be the perfect balance between crazy and wonderful, but honestly, that kind of life is what I aspire to.  Every single one of the characters in the show is eventually able to do what they love in one form or another, and they all balance their own dreams with those of the people they love.  They have it all, and somehow they make it work.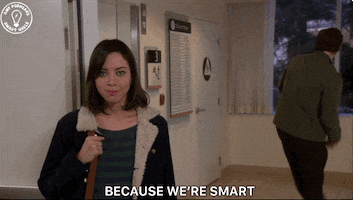 I know that real life isn't that simple.  Sometimes things just don't work out, and I know a lot of people end up settling for a job or a spouse more out of necessity than anything else.  That's not to say that happiness can't be achieved even if dreams aren't — people are really pretty good at being happy where they are.  And I try to be, too.  But I know I want as much from life as I can get.  I'm a typical American — I want it all.
One of the bloggers I recently began following wrote this post about millennials and dating — specifically, that they aren't, and why she (the author) is okay with that.  I loved her viewpoint — the majority of my friends are single, and have said the very same thing.  In the words of my first college roommate, "Your twenties are for you," and being single in your twenties allows you to really develop yourself and chase your dreams.  It's the time to be selfish and figure out what you want to do for the rest of your life.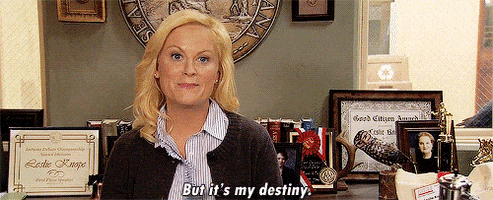 That's what most of the characters in Parks and Rec did — the majority of them didn't get into a serious relationship until they were in their 30s.  By the time they were ready to invest in someone else, they had already invested in themselves and were at least on the way to being where they wanted to be professionally.
I'm about to turn 21.  I'm about to graduate college.  Now is the time for me to invest in myself — I have a billion different ideas for what I want to do and none of them really fit together.  Just to give you an idea, I've thought about opening a coffee shop/bookstore, working for a study abroad program, getting my real estate license, tutoring Spanish and/or flute on the side, trying to write for a magazine, or trying to get a job at Mattel or American Girl.  And those are just the recurring ideas.  I don't know what the crap I want to do, and I'd love to be able to attempt any one of these, even if it meant moving around for a few years.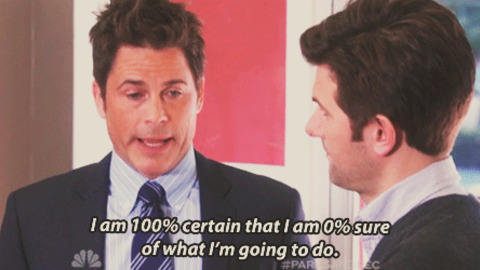 My life has a catch, though.  I'm in a committed relationship, unlike many millennials.  I don't really have the freedom to do whatever or go wherever I want, because I have someone else to think about.  It's a completely different dynamic.
I'm not trying to say that I wish I wasn't in a relationship, or that I regret it.  That is so not the truth.  My SO is my best friend, and I don't know what I would do without him.  He's my voice of reason and my comfort zone, and I admire him immensely.  He's talented, friendly, and handsome.  He's one of those people that gets along with everyone (how do people do that??).  I love him, and I feel so lucky that I'm the one he wants to spend his life with.
However, I'm not denying that relationships complicate lives.  That's just the nature of being involved with people.  As much as my independent hermit spirit would love to be able to just fly to Spain and live in a hostel for a few months, I have to admit I need people too much.  I need and want to be around the people I love, and that is why even though it's going to be so hard, I'm focusing on the dreams that are realistic for my life.  I'm willing to give up on some ideas because I love my friends and family more.
This may sound like a ridiculous thought process.  It's not like I'm giving up actual job offers or anything like that.  But when you get to this age and stage of life, you do have to give up possibilities.  It's like opportunity cost in economics — by choosing one thing, you give up another, and you'll never know how you might've benefited from the other option.  It's just one of the risks of decision-making.  And at this point, I may never know what I might be giving up by balancing my job aspirations with my SO's.  But I do know what I'm gaining.  
Most millennials aren't dating.  But some are, and for those, life is all about balance.  Dreams don't disappear just because you've found your life partner.  Now it's a matter of figuring out which ones work together.  That'll be an adventure in itself.